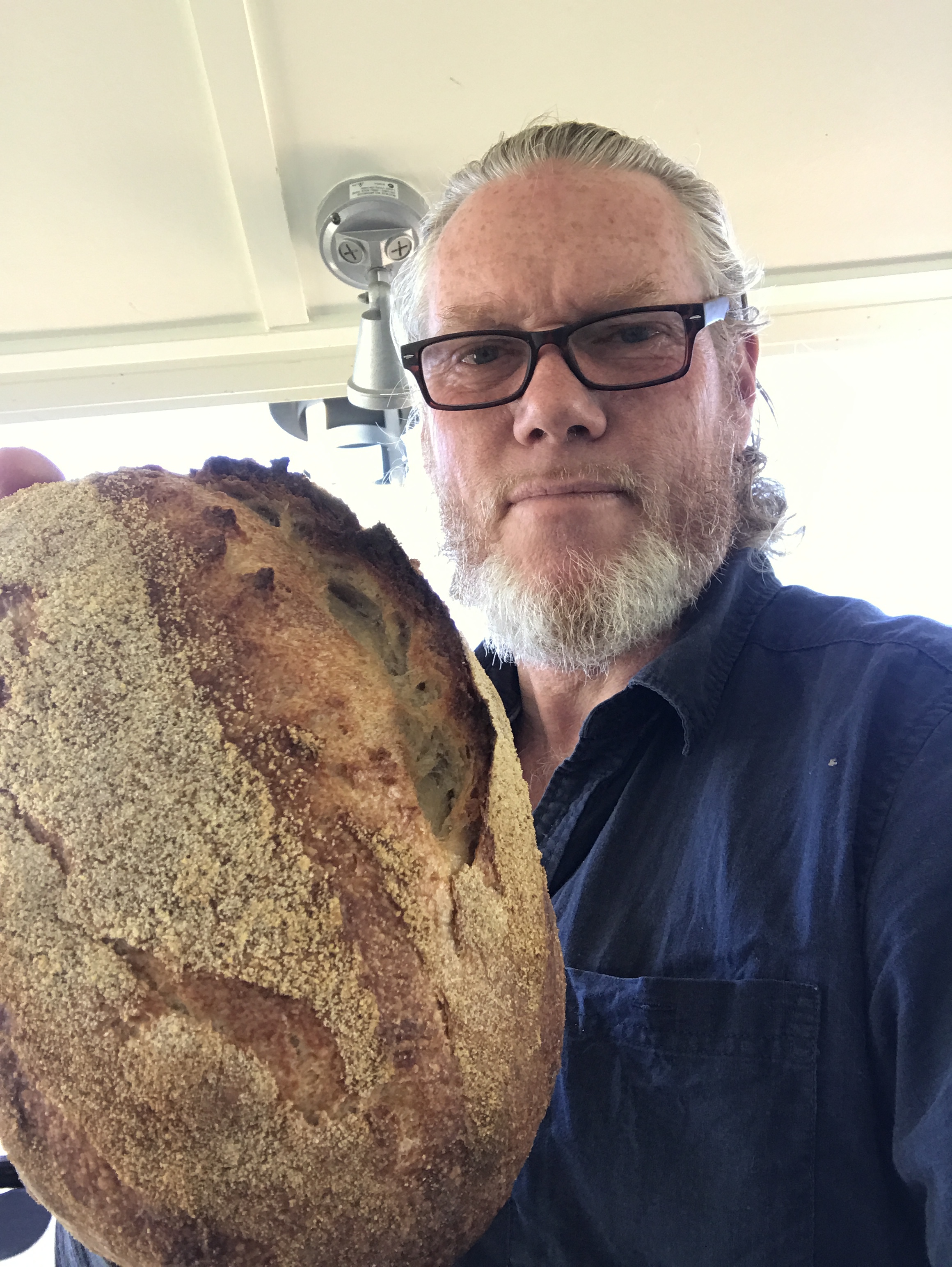 Bake Day Workshop
The baking process is fascinating. Sourdough bread takes 7 complete transformations from preferment to baked bread.
In our bakery, nothing is hidden, and the process is always on display for students to learn and interrogate.
You can join master baker Warwick Quinton as he works through his commercial sourdough process, one day at a time. The tuition can be one on one, or in a small group. The subject areas covered have a different focus each day.
Practical Prefermentation and Production Theory. (Monday or Tuesday) Building dough from the ground up. You'll learn about how to make a whole bunch of bread - six different kinds - and the mechanics behind this. You'll learn how to structure a small production run so that you will make exactly what you plan to make, with as little work as possible. You'll learn how to produce a larger volume of bread, with some basic checks and balances in place to minimise production wastage. We cover production administration, and how to make the sums easy so you can make some dough by making dough.

Doughmaking, Desem and Production management. (Tuesday or Wednesday) You'll spend the day learning how to use a basic spiral mixer as a tool to create 'shiny dough', essential for proper artisan bread. The spiral mixer is a common and low cost piece of equipment which most Australian bakeries use. The techniques learned using this can be translated to other types of mixing equipment, such as a one arm or two arm mixer. We will also build dough by hand, utilising a specially designed dough box instead of a mixer. The dough box has been used for centuries throughout Europe, and enables the baker to make 10 kilos of dough at a time, easily and relatively quickly. Some bakeries use them alongside their spiral or single arm mixer; others simply use them instead of a mixer, making setup costs more manageable. You will also learn about temperature control, and how to achieve consistency across multiple doughs. We also cover how to manage and feed a dough starter, or Desem.

Processing and Proofing. (Wednesday or Thursday) Setting up for bake day, you will learn how to portion and round, how to store and slow ferment dough through a number of proofs. You'll learn about how to set up your bakery for slow fermentation, and the types of equipment you might need to run your micro (or macro) bakery, being mindful of capital costs and and what your business plan sets out to do. We cover capacity calculations and scheduling, so that your bakery will work optimally for you.

Finishing and Firing. (Thursday or Friday) Bake Day is the culmination of the weeks' work. You'll learn a variety of finishing techniques which are designed to be simple, and which involve as little handling of the dough as possible. You'll learn how to structure a bake session to suit your equipment, and see first hand how our bakery works with its basic equipment to create amazing bread. You'll get to work with our specially designed wood fired oven, Luna 2. You'll see how baking on the sole using a high thermal mass oven creates a superior product. You'll be using a baker's peel, and you'll learn how to work with just about any oven, whether it's wood fired, gas or electric. We can also explore simple oven modifications for this type of baking, especially if you have a commercial or semi commercial oven already.
If you are time pressed, Warwick can structure things for you so that you get maximum content in minimum time. You can choose to do a single day, and return at other times to refresh or fill in the gaps in your learning. Warwick's 30 years of commercial baking experience can be leveraged to suit your particular circumstances and the style of bread you want to make. He can also offer ideas and advice around how to build a bakery in your locality - whether that's through getting a following through local markets, supplying onsellers and value adders, creating a direct selling model or incorporating these techniques into a stand alone retail and/or manufacturing setup. Warwick also has plenty of 'cafe bakery' experience as well, so if you need help on how to do this, these sessions offer an informal but informative experience.
If you would like to arrange for times and dates, ring Warwick direct on 0409 480 750. You can attend one session, or more. Priced at $400 per day.
sale
Warwick Quinton, long term artisan baker and business mentor says:
'The movement towards better bread is well and truly underway. Bakeries everywhere are running to keep up, with many being caught off guard, as customers become better educated about bread. Believe me, customers will travel to find something they really like.'
'I speak with thousands of customers every year, who tell me they are bored with their local bakery's offerings. While they may still buy their sandwich breads at their local bakery, it's also true that super healthy breads, fancy breads and the breads people want to show off with, such as lovely wood fired crusty loaves are being purchased elsewhere. That's where you come in.'
'My service is all about making authentic artisan breads - and while I'm flexible within each baker's skill set, I won't be teaching shortcuts. My methods specifically rule out chemical additives of all kinds. I teach the fundamentals of what used to be called 'time dough' - which in my own bread making practice has been stretched far beyond the parameters of the past. I've evolved the techniques of getting flavour into bread to a point where individual bakeries can choose how much flavour they want to go for! This bread, and the method used to make it, is truly authentic.'
'It's all about flour, water, salt, yeast and time. I teach advanced techniques with dough fermentation. I teach bakers to work with what they have; I have found that bakers tend to be pretty ingenious creatures, and they will tend to accommodate all sorts of tricks to get the best out of their equipment, their ingredients and their general setup.'
'My area, as you would be aware, is sourdough and artisan breads, but I have a broad bakery skill set, and can usually add value in your setup in a variety of different ways. Thirty years in bakeries and cafes and kitchens of all kinds lends itself to a flexibility of approach which I believe can't be matched by a 'training company'.'
'Call me on 0409 480 750 to discuss.'