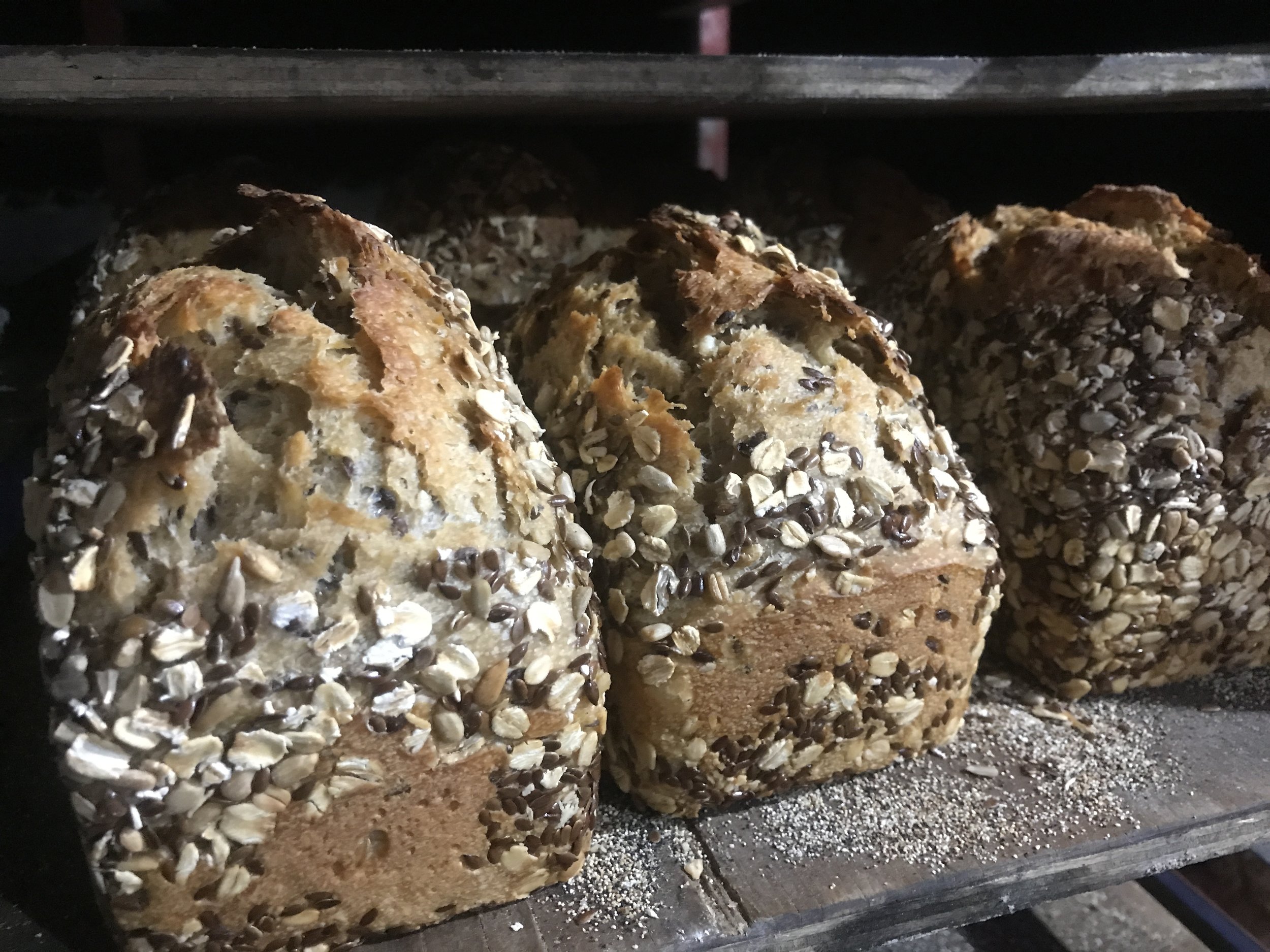 Master Baker Support
MasterBaker Support provides virtual support for students of all MasterBaker Series workshops, as well as journeyman bakers of all kinds.
New ventures, or established ventures incorporating a sourdough product range, almost always require some support, especially in the early months. This is when people find themselves staring at their setup, completely overwhelmed by the enormity of what they are embarking upon. Even micro bakeries are a serious undertaking, and with Warwick's very broad technical knowledge, this process is made all that much easier.
Virtual support equates to phone, txt, skype, email and social media contact support for your bakery venture. It includes specific production, marketing and planning advice as required.
This package provides direct support for students for up to six months from the date of purchase. Support hours are unlimited - Warwick will help the student as much as is needed by phone, email etc, until the student's venture is considered to be at an agreed workable milestone.
While Warwick doesn't turn on the clock during this time, this support is like a subscription, in that it expires after six months. You can choose to renew each six months, whereupon Warwick can provide ongoing support, mentorship and technical advice. This is very handy, especially when introducing new products, or bringing in new equipment.
As Warwick's MasterBaker Series has grown in popularity, and bakeries have begun, there has become a genuine need for substantive help as these bakeries find their feet. Warwick has provided this support for many years, and rarely charges for it. He now finds it necessary to attach a dollar value to this service - not only because it takes substantial amounts of time, but also because the nature of some of this support does become quite technical. In many cases it involves further research, as well as implementation processes. As such, it becomes a fully professional service, and incurs cost which must be passed on.
Warwick himself says:
'In the many bakeries and kitchens I have set up and operated through the years, there have been countless times when I really could have used some sage advice. I don't mean wise words from above - I mean the type of advice which was entirely created for my specific requirements at the time. I've hired consultancies before, and been disappointed at the outcome, simply because this outcome was a cookie cutter piece of practice that was like data in, data out.
When we spend four days together during the MasterBaker Series, I get to understand first hand what you are trying to do. I generally know you well enough by this time to be frank and fearless, if required. I also understand that new ventures can have really slow incubation periods before they hatch. Sometimes, this can be some years from doing the workshop.
In the same vein, journeyman bakers who have not done a 300 series workshop can still access my 'virtual support' service. I will need to familiarise myself with your processes and products initially, and I will occasionally require you to do a bit of homework so that I can correctly support you. Certainly, these days it's easy to exchange detailed information, as everybody carries a camera/computer in their pocket!
It doesn't matter when you call me - once we have activated this service, it doesn't take long to bring ourselves up to speed with things, and for me to help you move forward, no matter where you are in your business. '
This service is potentially a business saver. Countless testamonials will attest to this.
The subjects covered in a general sense include:
Infrastructure and resource management - setup infrastructure and equipment advice for a new bakery product range. Lots of thought should go into the bakery setup. This subject area includes an aspect of bakery design, and can include bespoke fitout design and fabrication through my network or yours. I cover lots of fine details with you which ultimately will create a setup you will be able to sustainably manage.
Business planning, market research and production planning - learning how to successfully fit into the local market with products and services which answer a need, whether it's an 'identified' or 'discovered' need. This process is also very much concerned with making your business suit you, your lifestyle, and beliefs; at the same time, the business must generate profit for any lifestyle goals to be maintained - so this is the area we focus on.
Scheduling - once the bakery is set up, scheduling for the planned production routine is another area bakeries need to consider. Fitting a new product range in with other things, including your family, your other business interests or just other bakery things requires a thorough resource audit and from that a schedule can be created which works for you, your customers and your product.
Marketing and merchandising - I offer general development, training and support for various areas of the bakery ecosystem, including how to make products walk off the shelves more easily. There are numerous business systems around marketing which can suit the micro operator too - direct selling, using onsellers, subscription systems, markets retail, popup retail and so on. Often we cover the basics of social media and brand influence as well, a very important area when it comes to fresh products.
Formulation design and bread process - in some instances, business operators can't attend a 300 series here in the Hunter Valley - whether it's due to business or family committments, or distance. For these people, I offer a basic training package on how to create the best formulations and processes to run a sourdough bread product range in their setup. I work through an abbreviated version of the 300 series through skype, email and phone calls. This particular part of the service does assume some prior experience on your part.
Site work - new and existing bakeries often require onsite consultation to assist in understanding or maximising the efficiency and effectiveness of the chosen production schedule. Each visit equates to a unit of this product. Travel and accommodation costs can be discussed separately.
For more information, call Warwick on 0409 480 750.